Your Entertainment Headquarters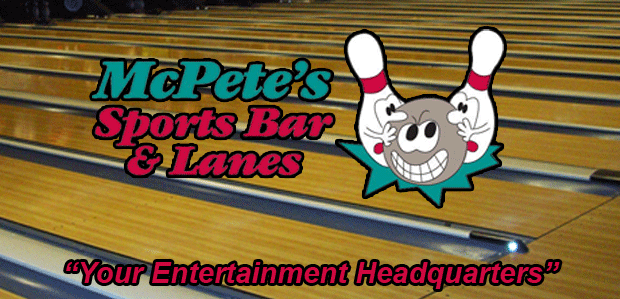 McPetes Sports Bar & Lanes is not only a fun and exciting Bowling Center, you will find a whole lot more! It's "YOUR ENTERTAINMENT HEADQUARTERS"
Whether it's a night out with family and friends, group or community party, adult or children's birthday party, league bowling with family and friends, or just stopping in for dinner-McPete's is the place to be!
We have a large modern lounge area and a separate party room for meetings, banquets and parties of your choice. Give McPete's a call and book this room for your special occasion.
In the summer months, we feature an 18 hole miniature golf course, 5 Batting cages and a large outdoor patio area. We have volleyball, bean bag, and horseshoe leagues for you to participate in. Or just come, relax and enjoy the action!
HOURS: M-F 9:30 am - 1:00am
Saturday 9:00am - 1:00am
Sunday 10:00am - 12:00am