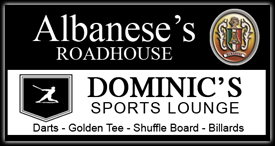 Welcome to Albanese's Roadhouse
"Where fine Italian cuisine has
always been a tradition"
Since 1940 when Joseph and Francis Albanese developed their own Italian dinners and a house wine from recipes known only to relatives in Italy, their son Dominic, like dad, has been dedicated to continue the same tradition of quality and service.
Today, Dominic and his wife Elayne and son Joe offer there generations of expertise in food preparation, mixology and administrative responsibilities to serve you.
So, please share with us, the Albanese family, a glass of fine house wine, lunch or dinner, so that you too, may enjoy the Italian tradition of Albanese's.
Thank You,