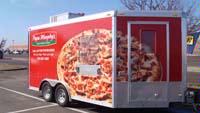 Papa Murphy`s is a family run business that has been in the Hutchinson and Willmar Area since 2000.
Papa Murphy`s Take N` Bake Pizza is the pioneer of the take and bake concept. We are the largest take and bake pizza company in the world. We offer only the freshest and highest quality ingredients with our freshly grated cheeses and our dough that is prepared in house daily. We offer our products at a low price point, and we also offer our customer the opportunity to cook their pizza when they are ready to eat it.
Our Company philosophy is "We Can Do That"
What our customers enjoy is the fact that our pizza`s are FAST, but more important FRESH!!!
Papa Murphy`s is also on the road!!!
We can come to your community with our refrigerated trailer to deliver fresh take and bake pizzas. Papa Murphy`s can help your group or organization raise hundreds or thousands of dollars.
FUN, FAST, EASY
Selling is easy!! If you have a group of 20 and each pre-sell just 10 family size pizza`s your group or organization would profit $600.00
Any Fundraising Group can take advantage of our Pizza Wagon!!
*Scouts*Youth Groups*Schools*Sports Groups
*Disaster Relief*Church Groups*Community Events
WE CAN HELP!!!
To set up a date for your group, please contact:
Mark or Leigh Miller
After you secure a location, all you need to do is take advance pizza orders, help get the word out and provide 1-2 people on delivery day. We will provide order forms,make the pizzas, and provide on-site help. We can also bring extras of our most popular pizzas to take care of any walk-up orders.