where quality is the difference!

John's Collision
John's Collision provides full professional auto body and collision repair services
in the Howard Lake, Mn area. Our professional and friendly technicians deliver
quality services at reasonable rates. Come to our state of the art auto facility
for paintless dent repairs, frame repair, and quality color matching using Dupont paints.
We also have available courtesy cars and we offer free towing services.
At John's Collision, quality is the difference.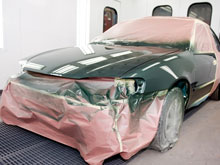 Learn More About John's Collision:
*Complete auto body and collision repair
*State of the art facility
*100% guaranteed workmanship
*Courtesy cars available and free towing
*Paintless dent repair and hail repair
*Specializing in all insurance companies and claims
*Frame repair and excellent color matching

All our work is 100% guaranteed and we accept all insurance claims.
Our polite and professional staff are always ready to answer your questions,
so don't hesitate to give us a call. We are located just west of Howard Lake
in the Industrial Park on Highway 12.

Call John's Collision toll-free at 866-729-0355 for complete

professional auto body and collision repair services.

Business Hours:
Monday-Friday 8:30 am- 5:30 pm
Saturday by appointment